Scholarship program
The Mounted Patrol Foundation Scholarship program funds scholarships for deserving students that are involved in equestrian activities. Since 2011, ten scholarships have been awarded to deserving competitors in the 4th of July Junior Rodeo. We now are adding another scholarship.
NEW for 2020
WHOA! - Woodside-area Horse Owners Association
and the Mounted Patrol Foundation
Announce a $10,000 Scholarship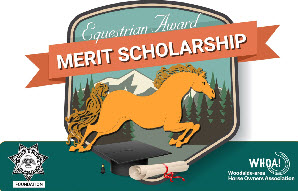 The Mounted Patrol Foundation and the Woodside-area Horse Owners Association (WHOA!) are pleased to announce a new scholarship, the $10,000 Woodside-area Equestrian Merit Scholarship Award, jointly sponsored by the two organizations for a deserving local high school senior with a demonstrated involvement in equestrian activities as well as academic achievement and community service..
Both the Mounted Patrol Foundation and WHOA! share a deep interest in the next generation of equestrians, as well as a commitment to helping them achieve worthwhile goals, through each organizations ongoing activities and now through their joint sponsorship of the this scholarship award.

Recipient must meet the following criteria:
Experience in equestrian activities
Must be attending a form of higher education
Demonstrated academic achievement - Finalists will need to provide transcripts showing their GPA
Community involvement
Attend high school in San Mateo, Santa Clara or San Francisco Counties
Financial need will be taken into consideration
The application link is below. Please complete all sections of the application by typing in the form fields. Once complete, print and sign, then scan and submit by email to scholarship@MountedPatrolFoundation.org. Incomplete applications will not be considered.
The $10,000 scholarship will be paid directly to the recipient's college or university in support of the recipient's tuition, fees, room and/or board.

The deadline for submission is was April 10, 2020 by 3:00pm. Due to the issues related to the COVID-19 virus and the shutdowns, some applicants have had difficulty in meeting this deadline. The deadline has been extended to May 15, 2020 at 3:00 pm. Decisions will be made by May 29, 2020. Selection criteria include demonstrated equestrian involvement, academic achievement, and community service. Financial need will be taken into consideration in the selection of the scholarship recipient. Finalists will be required to provide transcripts showing their GPA.
WHOA MPF SCHOLARSHIP 2020 Application Form
Mounted Patrol Foundation Contact Webmaster