Pescadero Creek County Park
Trail Clearing and
Repair Damage to Towne Creek Bridge 2023
The winter rains and winds have done major damage to the trails and bridges in all the San Mateo County Parks. The Parks staff has been working hard at Wunderlich and Huddart and other parks, to repair them, but they have a huge amount of work to do. Pescadero Creek County Park, essential for trail riding from Jack Brook Horse Camp, has also been hard hit. Parks Staff was able to get on the West Brook Trail a month ago and discovered major damage and blockage to the recently built bridge over Towne Creek. The Parks staff is planning to complete a full assessment in April/May.
There are three big trees.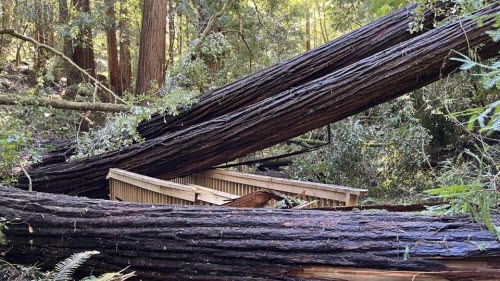 The picture below shows the damage to the bridge rail. The stringer under the rail has been cracked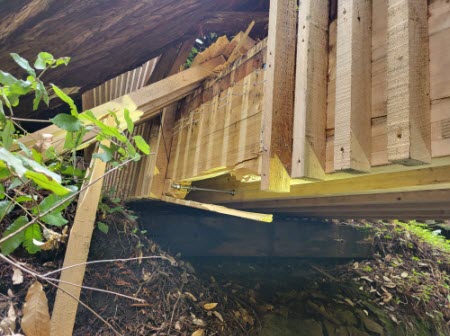 From the South side big roots!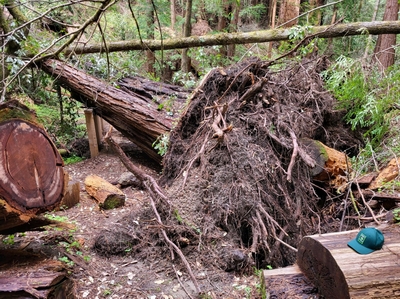 Watch a video of the damage to the bridge
With the support of San Mateo County Parks, the plan is to engage the San Jose Conservation Corps (SJCC ) for the week of May 15, 2023, with a crew of seven, to clear and repair the trails and washouts. Clearing the giant trees (4-5 foot diameter!) will require a very experienced logger/tree cutter which is being searched for now. It would be great if the redwoods could be cut and salvaged, but access to the site is very limited. Once the trees are cleared, then repairs on the bridge can begin. The substructure and footing of the bridge appears to be intact. There are 5 beams on the bridge. There is some damage to one outer beam that can be repaired.
The SJCC labor is estimated around $15,000. Mike Bushue, the designer and builder of the bridge, has volunteered to lead the carpentry crew to do the bridge repairs. He estimates that approximately $5,000 could be needed for materials. The original estimate for tree cutting was $3,000 but this is proving to be too low. The original budget of $23,000 will increase once we have bids from tree cutters. The goal is to have the project completed for the summer camping season, but the work required could prove to be more extensive.
Repairing the bridge and the trails will enable the equestrian community to enjoy riding from Jack Brook this summer. Without the bridge, the West Brook Trail cannot be accessed, which cuts off nearly half the trails in the Park. Many other trails could also have problems which will be revealed after further assessments in April/May.
The SJCC crew is paid, with workers compensation insurance, health insurance, liability insurance, transportation, tools and equipment. The professional tree cutting expert has not yet been identified.
We have started reaching out to the local horse groups and individuals to help with funding this project. They have been very generous in their support. You can also help support this project by clicking the button below. Thank you.

Mounted Patrol Foundation Contact Webmaster