Replacement of Bridge over Town Creek Pescadero Creek County Park
The West Brook Trail has been a favorite of hikers and equestrians for many years. It goes down the beautiful Town Creek valley among towering redwoods and crosses Town Creek near the bottom on a bridge that was constructed many years ago.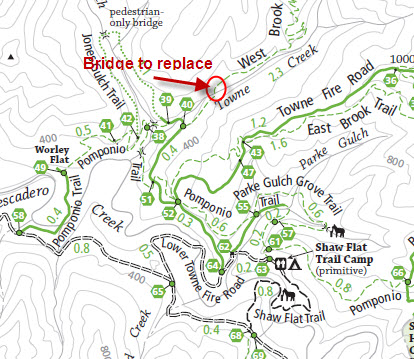 The team from ETRAC: Mike Bushue and Walter Gloskowski designed a new bridge that would be 30 feet long, which will allow the new abutments to be set back 5 feet from the creek edges. It would not be necessary to do any work in the creek. The beams would be new Alaskan Yellow Cedar glue lams, which will be stronger than the existing bridge. It would also be 1 foot wider, to permit County staff to drive small equipment over the bridge in the case of an emergency or fire. The new bridge will be in the same location as the existing bridge, which would be removed.
We are hoping to get final environmental permits early next year (2019). At that time we will be seeking to raise $20,000 for this project, with the goal to be ready early summer.

The new bridge is shown in the photos below. The pink tapes show the new bridge which is in the same location as the old bridge. The orange tapes show the outline of the top of the footing/abutment

View looking South for the new bridge location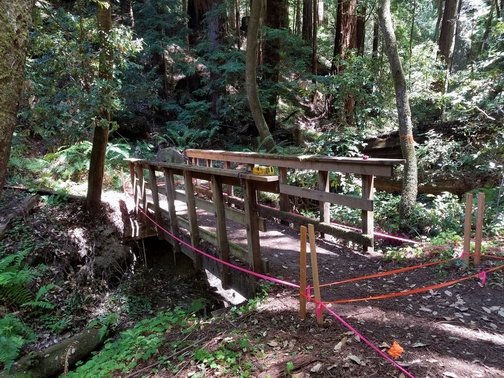 Mounted Patrol Foundation Contact Webmaster