Replacement of Bridge over Town Creek - Pescadero Creek County Park
The West Brook Trail has been a favorite of hikers and equestrians for many years. It goes down the beautiful Town Creek valley among towering redwoods and crosses Town Creek near the bottom on a bridge that was constructed many years ago. The old bridge is 20 feet long and built with abutments at the edges of the creek. Over the years, the creek has eroded the western abutment, requiring the bridge and trail to be closed.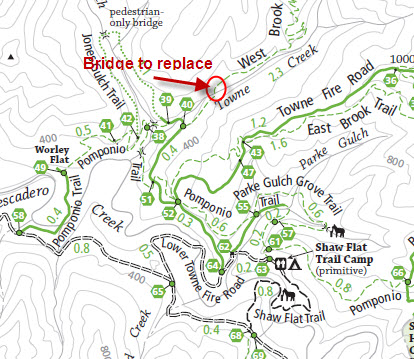 The team from ETRAC: Mike Bushue and Walter Gloskowski, designed a new bridge that would be 30 feet long, which will allow the new abutments to be set back 5 feet from the creek edges. It would not be necessary to do any work in the creek. The beams would be new Alaskan Yellow Cedar glue lams, which will be stronger than the existing bridge. It would also be 1 foot wider, to permit County staff to drive small equipment over the bridge in the case of an emergency or fire. The new bridge will be in the same location as the existing bridge, which will be removed.
We got environmental approval and permits mid-December. The goal is to have the new bridge done by June 1, 2019, so we can have a great summer riding in Jack Brook. Construction will begin shortly after April 15, if the weather cooperates. The order for the beams, which have a two month lead time, has been placed. The budget estimate is $25,000 total: $15,000 for materials, $10,000 for labor. Any excess contributions will be used for other trail repairs.
The Mounted Patrol Foundation is a 501(c)(3) charitable entity, so donations are tax-deductible to the amount permitted by law.
As of April, we have over 90% of the funds necessary.
Thanks to the following Gold Star Donor for the generous support:

Other donors are:
Silver Star supporter
The Don and Carole Tanklage Foundation
Bronze Star supporters
BABT -Bay Area Barns and Trails
SMCPF -San Mateo County Parks Foundation Friends of Huddart and Wunderlich Parks
Los Viajeros Riding Club and its members
San Mateo Horseman's Association and its members
Mounted Patrol of San Mateo County and its members
Please help us finish this project by sending a donations by clicking below

Make a notation on your check Towne Creek Bridge.

The new bridge layout is shown in the photos below. The pink tapes show the new bridge which is in the same location as the old bridge. The orange tapes show the outline of the top of the footing/abutment

View looking South for the new bridge location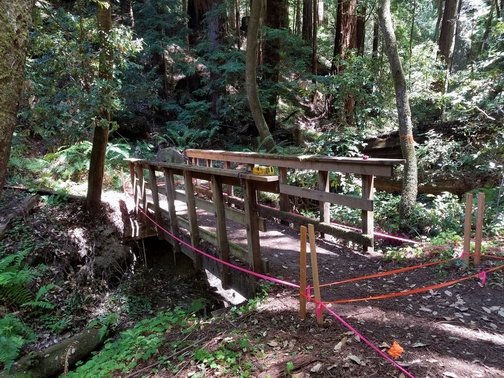 Mounted Patrol Foundation Contact Webmaster