Replacement of Bridge over Towne Creek - Pescadero Creek County Park
The West Brook Trail has been a favorite of hikers and equestrians for many years. It goes down the beautiful Town Creek valley among towering redwoods and crosses Town Creek near the bottom on a bridge that was constructed many years ago.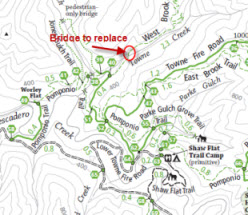 The old bridge is 20 feet long, and was built with abutments at the edge of the creek. Over the years, the creek has eroded the western abutment requiring the trail to be closed.
The team from ETRAC: Mike Bushue and Walter Gloskowski designed a new bridge that would be 30 feet long, which will allow the new abutments to be set back 5 feet from the creek edges.
We got environmental approval and permits in mid December. We are now seeking to raise $25,000 for this project, with the goal for the bridge to be completed by June 1.
Please help by contributing funds to this cause. Please send a check with a notation: Towne Creek Bridge TO:

Mounted Patrol Foundation
ATTN: Towne Creek Bridge
521 Kings Mountain Road
Woodside, Ca
94062
URGENT: Request for help for horses in Butte County

We need to help the horses and equestrians that have lost their homes, barns, feed and pastures to the Camp Fire in Butte County. There are many different organizations that are working to help, and Mounted Patrol Foundation has reviewed the ones that we could help with donations of money. We thank those that are getting donations in kind. Below is a link to ABC7 news disturbing video showing the horses running from the fire!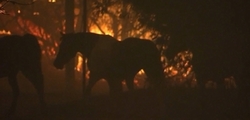 ABC News Horses Running from Fire

See more in Community Projects


The Camelot Equestrian Park is a multipurpose equestrian facility, similar to our own Horse Park, with 1600 acres of space that is a venue for many horse events in the area. It is 10 miles from Paradise, on the edge of the fire. A portion of the cross country course was partially burned, but all the facilities are undamaged. They have stalls for over 200 horses that come for events in the summer, and are now being offered to displaced and homeless horses. They are also offering RV sites for those local folks that have or can borrow an RV. It is likely they could be there for months.

https://www.camelotequestrianpark.com/

The Camelot Equestrian Park can use financial contributions to be able to pay for the food, vet care and medicine that the horses and equestrians desperately need now and for the months to come. The Mounted Patrol Foundation is has sent $5,000 immediately to them so they can start helping.

Please help by contributing funds to this cause. Please send a check with a notation: Fire Relief Efforts - Butte County TO:

Mounted Patrol Foundation

ATTN: Fire Relief Efforts -Butte County
521 Kings Mountain Road
Woodside, Ca
94062

2018 Scholarship Winners&nbsp

The Mounted Patrol of San Mateo County is pleased to announce the recipients of its 2018 academic scholarships. Two scholarships totaling $3,000 were awarded by the Mounted Patrol Foundation and supported by The Friend of Huddart and Wunderlich Parks..


Theses scholarships were created to honor individuals that strive to support horsemanship and the western heritage lifestyle that the
To be eligible, high school Juniors and Seniors participating in the annual Mounted Patrol 4th of July Rodeo could apply and would be judged on academic standing, a written essay describing their educational goals and how these goals will help preserve horsemanship and the western lifestyle.


Winner of the $2,000 scholarship is Erin Shipely, of Madera California. Erin plans on attending California State University, Fresno and will compete on their rodeo team. Erin plans on attending medical school with the US Navy and become a cardiothoracic surgeon. Erin hopes that following medical school she wishes to compete in the professional rodeo association and start a business breeding barrel racing horses. We wish her all the best in her equine and educational endeavors.


Winner of the $1,000 scholarship is Kaitlin Raynor, of Woodside California. Kaitlin plans on attending UCLA in civil engineering. Kaitlin comes from a self described "horse obsessed family" and sees herself using her civil engineering to pursue a career in sustainable urban development that can be equine friendly allowing children the opportunity to grow up enjoying the equine lifestyle that she has enjoyed.